Granite and quartz are two of the most popular materials for kitchen countertops. They're both durable, high-end options that can stand up to heavy use. How do you care for your new granite or quartz countertops? What kind of cleaning products should you avoid? And what's the best way to get rid of stains and stubborn messes? We've got your answers below!

[FREE GUIDE] Deciding between granite and quartz for your new countertops? Get your FREE copy of the Guide to Countertop Shopping!
Daily Countertop Maintenance
There are things that you can do on a daily basis to ensure that your granite or quartz countertops will continue to look their best for years. 
Clean up

spills immediately! Granite and

quartz counters

are

stain-resistant, but

not stain proof! They will become discolored if spills sit for too long. 

Use a

cutting board

! Knives can scratch your granite and

quartz surfaces

. Plus, it's

not good for your knives

, either. 

No

hot pans

! Granite and quartz are

heat resistant

but not completely immune to heat. Setting

hot pots

for other heated items on your countertops can cause

discoloration

or even thermal expansion, which can cause cracks. Always

use trivets

or

hot pads

if you need to set anything hot on your counters. 
Cleanliness Is Essential in Long-Term Countertop Care
Keep your countertops clean by regularly washing them with dish soap and warm water. Do not use abrasive cleaners or harsh chemicals to clean your countertops because they can cause permanent damage to the sealant. Avoid using oven cleaners or glass cleaners on granite and quartz because these will dull the finish of the stone, resulting in a faded appearance that's near impossible to restore. 
Wipe them down with soft cloth towels or paper towels. Although granite and quartz are scratch-resistant, using abrasive cleaning pads can etch the surface. You may not see the scratches, but your countertop's surface will eventually lose that lovely shine. 
Alkaline cleaners (such as Windex or bleach) or acidic cleaners are also not recommended. They will damage the resin sealant of your countertops, making them more vulnerable to stains. When it's time for a deep clean, use a specially formulated granite or quartz surface cleaner. 
Remove Stuck-On Messes With Caution
For the removal of stuck-on messes from your granite or quartz countertops, use a plastic scraper and avoid using sharp tools like a putty knife. Always use a mild detergent (such as dish soap) and warm water first, then gently scrape off any residue with the plastic scraper. Avoid using abrasive cleaners or scrubbing pads as they can scratch the surface of the stone. 
If you have a particularly stubborn mess, you can make a cleanser with baking soda and water to gently scrub off the crud. For greasy messes, baking soda plus just enough hydrogen peroxide to create a paste will act as a degreaser. Just mix the two, cover with plastic wrap that has some holes poked in it, and let it sit for a few hours. 
You can also use rubbing alcohol for ink-based stains on granite or quartz countertops. 
Regular Cleaning Is Key
Granite and quartz are attractive, durable, and low maintenance. However, low maintenance doesn't mean you can ignore your countertop surfaces. Regular cleaning of your countertop material will keep them looking great for decades. Remember when selecting your perfect piece, staining on lighter color materials will be more noticeable than a darker color.
Keep these basics in mind, and with this know-how of granite and quartz countertop maintenance, your kitchen will be a place that you'll want to show off. Interested in engineered or natural stone countertops? Contact the experts at Designer Stone Co. and get the countertops of your dreams!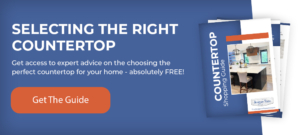 https://thedesignerstoneco.com/wp-content/uploads/2022/10/Person-cleaning-their-granite-countertop..jpg
878
1560
Georgia Shivers
https://thedesignerstoneco.com/wp-content/uploads/2022/02/DesignerStone-Logo-Granite-primary-hires-300x123.png
Georgia Shivers
2022-09-22 08:57:18
2023-03-08 15:35:20
What You Need to Know About Granite and Quartz Countertop Maintenance