As a homeowner, you make a lot of decisions during home improvement projects. For a kitchen remodel, a new countertop can go a long way toward elevating your kitchen's interior design. But how do you choose between the options for stone countertop materials? Let's take a look at granite vs. quartz countertops.
[FREE GUIDE] Deciding between granite and quartz for your new countertops? Get your FREE copy of the Guide to Countertop Shopping!
What Is Granite?
Granite is a type of igneous rock, which means that it's formed from cooled magma. It has a higher resistance level to wear than other types of stone and is often used in kitchen countertops, bathroom vanity tops, and fireplace surrounds. Granite stones are mined from quarries all over the world (including China and Brazil) for use in homes around the globe.
Granite is a natural material that has been used for eras. It's known for its durability and long lifespan, making it a popular choice for kitchen or bathroom countertops.
What Is Quartz?
Quartz is an engineered stone option for your next kitchen countertop. Combining the benefits of both natural stone and manufacturing, quartz countertops are a man-made engineered product made from crushed quartz, polymer resin, and pigments.
Engineered quartz also makes a great backsplash. The non-porous surface will resist absorption and can be cleaned easily.
Comparing Granite Countertops and Quartz Countertops
Both granite and quartz countertops will elevate your home's interior design and wow your visitors. However, there are some things to consider as a homeowner when deciding between the two. Here are some of the differences between granite and quartz when it comes to your kitchen counters.
Similarities: Granite vs. Quartz Countertops
Before you choose between countertop options, learn what you get from both. First, they are both extremely durable compared to other materials like laminate (which scratches, burns, and stains easily). Granite and quartz come in a variety of colors with different pigments throughout a single slab as well. Granite and quartz are relatively heat resistant, but avoid putting hot pots directly on the surface. Instead, put down a trivet or coaster before placing a hot pan on your countertop.
This part of a kitchen remodel isn't DIY-friendly. Both quartz slabs and granite slabs can be heavy, so professional installation is the best route to eliminate the risk of injury or damaging the stones.
Granite Countertops
Granite is a great choice for tough and durable countertops. Because granite is porous and can absorb liquids easier than quartz, apply a sealant to granite counters to prevent absorbing air or liquids. Resealing your counter yearly also enhances stain-resistant qualities. Mild soap and water are recommended to clean up any spills.
While both granite and quartz are scratch resistant, neither is scratch-proof.
Quartz Countertops
Quartz countertops have better stain resistance and do not require a sealer, making them more low maintenance than granite. As a non-porous surface, quartz countertops do not allow water or air to pass through or be contained within the material. When it comes to price, the cost of engineered quartz tends to start higher than granite per square foot.
Find Your Next Granite or Quartz Countertop
There is no clear choice when it comes to granite vs. quartz countertops. Either way, adding a natural stone or engineered stone countertop to your kitchen will raise your home's resale value. When you're ready to elevate your home with engineered and natural stone countertops, call Designer Stone Co. today or visit our showroom.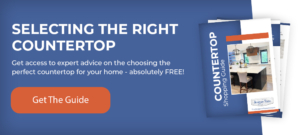 https://thedesignerstoneco.com/wp-content/uploads/2022/10/Side-by-side-picture-of-granite-vs.-quartz-countertops..jpg
1080
1560
Georgia Shivers
https://thedesignerstoneco.com/wp-content/uploads/2022/02/DesignerStone-Logo-Granite-primary-hires-300x123.png
Georgia Shivers
2022-09-22 16:36:37
2023-03-08 15:32:49
Comparing Granite vs. Quartz Countertops