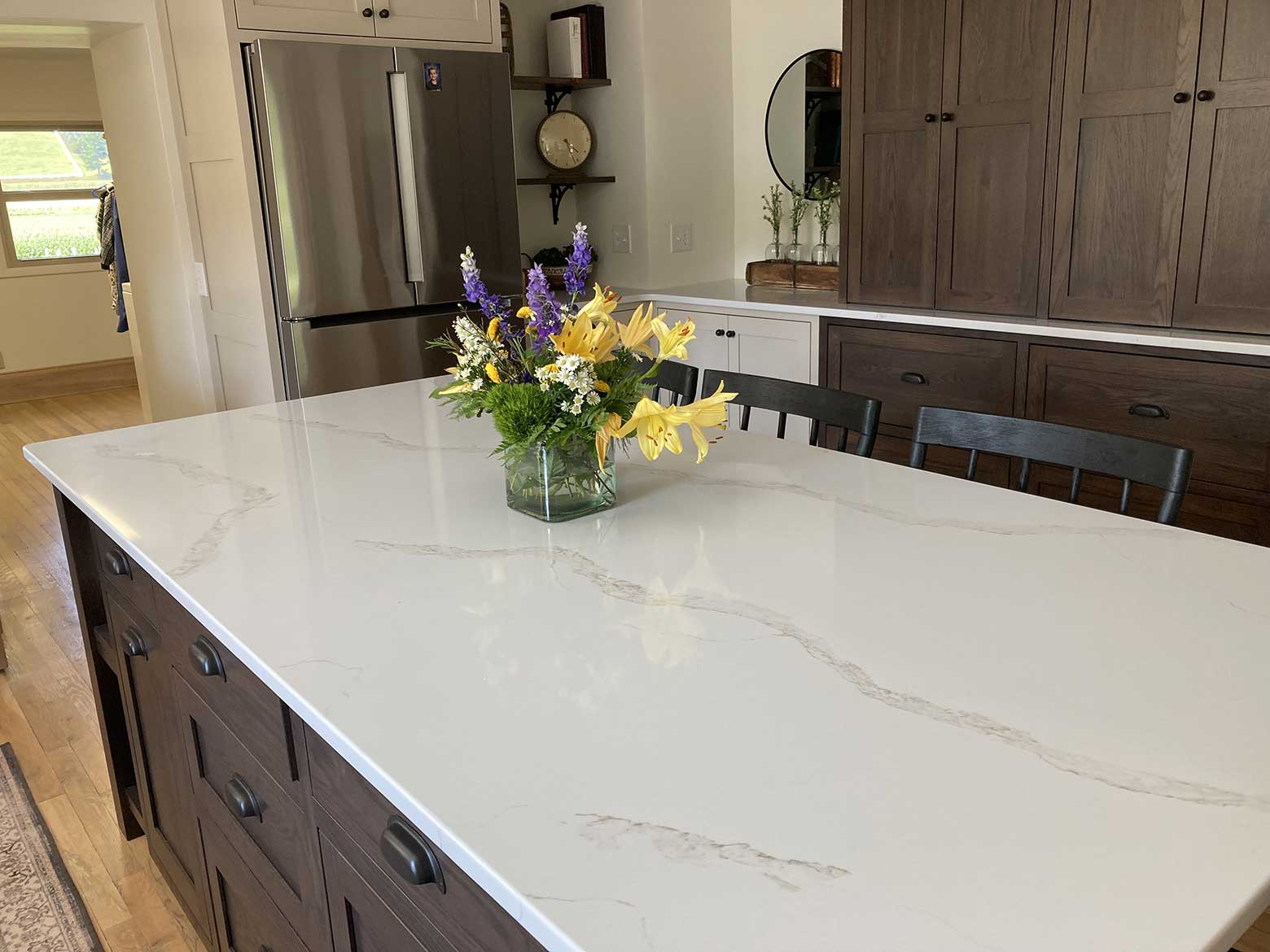 When it comes to kitchen countertops, there are a few popular options to choose from. You can go with a natural stone like granite or marble, or you can choose a man-made option like quartz. Quartz kitchen countertops have become increasingly popular in recent years, and for good reason – they offer many benefits that other materials don't. In this blog post, we will take a look at how quartz countertops are made and what sets them apart from other materials.
What's in Quartz Counters?
Most quartz countertops aren't "pure" quartzite. In fact, these countertops are actually composed of crushed pieces or flakes from larger rocks and are combined with other minerals. Quartz is mined from quarries.
Natural stones are harder to work with because they contain more imperfections than processed materials do. Quartz countertops consist of a man-made mixture of 90% ground quartz and 10% polymer resins and pigments. The amount of polymer resin used depends on how thick each engineered quartz slab is.
Color
Aside from its durability, there are many quartz countertop color options, including white and black, with white being the most popular choice. Natural quartz is easier to customize and create a unique color choice to match backsplashes or add to a kitchen island.
How Quartz Compares to Other Stone Countertops
While hardstone countertops are aesthetically pleasing, they each act differently. Natural stone countertops all have advantages, but the adding a personal touch and its durable nature make it top-notch.
Granite countertops are a natural stone slab option, especially in fashionable homes. It's heat resistant but if not resealed each year, spills will be absorbed into the stone.
Soapstone is softer than quartz, which means it's susceptible to scratches.
Marble countertops, although beautiful, will absorb moisture and spilled liquids if not quickly cleaned.
When comparing quartz to other countertop materials, it's common to ask, 'do quartz countertops cost a lot?' There are a few components to this answer. Quartz doesn't need to be sealed like other natural stone countertops, meaning it is naturally microbial. If you're a household with children and lots of activity in the kitchen, quartz countertops should be at the top of your list.
What Are The Pros and Cons of Quartz?
Pros of Quartz Countertops
Harder than natural stone
Variety of color options available since materials are mixed
Durable – unlike laminate kitchen countertops
Low maintenance
Nonporous
High-end kitchens
Cons of Quartz Countertops
Trivets are encouraged to protect the surface from hot pans and heat
Vulnerable to high alkaline and acidic products
Cost per square foot can be steep
Very heavy
Can fade from sun or UV exposure
Find Your Quartz Countertop With Designer Stone
As you begin your DIY remodel project and have questions about quartz, contact Designer Stone Co today. Visit our showroom to get an in-person idea of high-quality stone countertops, and ask questions about how quartz countertops are made.
https://thedesignerstoneco.com/wp-content/uploads/2022/11/Closeup-of-quartz-countertop-in-kitchen..jpg
1170
1560
Georgia Shivers
https://thedesignerstoneco.com/wp-content/uploads/2022/02/DesignerStone-Logo-Granite-primary-hires-300x123.png
Georgia Shivers
2022-10-19 15:10:44
2022-11-15 15:23:36
From the Ground Up: How Quartz Countertops are Made