Outdoor spaces have become increasingly important in recent years, as people seek ways to relax, entertain, and enjoy nature at home. Whether you have a small balcony or a large backyard, there are many ways to make the most of your outdoor space using natural stone like granite. Let's explore 20 creative ideas for creating functional, beautiful, and enjoyable outdoor spaces.
Functional Outdoor Living Spaces
Outdoor Kitchens: Create a functional and stylish outdoor kitchen for cooking and entertaining. Include a grill, sink, refrigerator, and storage space, as well as a dining area for guests.
Dining Areas: Set up a cozy dining area with a table, chairs, and lighting for outdoor meals with family and friends.
Lounges: Create a comfortable and inviting lounge area with outdoor sofas, chairs, and coffee tables. Add cushions, pillows, and throws for extra coziness.
Fire Pits: Build a fire pit for warmth and ambiance on cool evenings. Add seating around the fire pit for a cozy gathering spot.
Outdoor Bars: Create a bar area with a sink, refrigerator, and seating for drinks and conversation.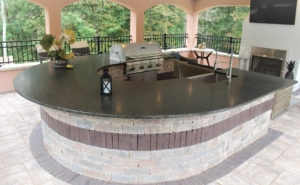 Outdoor Relaxation and Self-Care
Meditation Areas: Set up a quiet and peaceful area for meditation, yoga, or mindfulness practice.
Yoga Spaces: Create a designated space for yoga practice with a mat, props, and soothing decor.
Outdoor Spas: Install a hot tub or spa for relaxation and rejuvenation.
Hammocks: Hang a hammock or two for a relaxing and comfortable spot to read, nap, or daydream.
Nature Walks: Create a walking path or trail for a peaceful and meditative nature walk.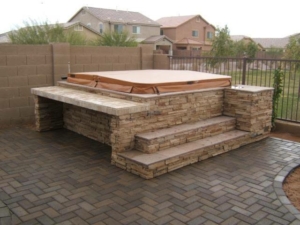 Incorporating Nature into Outdoor Spaces
Water Features: Add a water feature such as a fountain, pond, or waterfall to create a peaceful and relaxing atmosphere.
Gardens: Plant a garden with flowers, herbs, or vegetables to add color and life to your outdoor space.
Paths and Walkways: Create paths and walkways with stones, bricks, or pavers to add texture and interest to your outdoor space.
Shade Structures: Install a pergola, awning, or umbrella to provide shade and protection from the sun.
Lighting: Add lighting to your outdoor space with string lights, lanterns, or spotlights to create a warm and inviting atmosphere.
Outdoor Entertainment
Games: Set up outdoor games such as cornhole, bocce ball, or horseshoes for fun and friendly competition.
Sports: Create a space for sports such as basketball, volleyball, or soccer for active and energetic outdoor fun.
Movie Nights: Set up a projector and screen for outdoor movie nights with family and friends.
Music: Install outdoor speakers for music and dancing under the stars.
Art: Create an outdoor art studio for painting, drawing, or sculpting.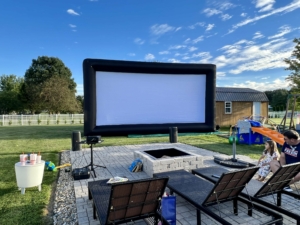 Here at Designer Stone, We Bring Your Vision To Life
There is endless potential for relaxation, entertainment, and recreation. With a little creativity and imagination, you can transform your outdoor space into a functional, beautiful, and enjoyable oasis. Whether you prefer cooking, gardening, sports, or relaxation, there is something for everyone in the great outdoors. So go ahead and explore your own creativity and imagination, and make the most of your outdoor space today! Make sure you have photos and measurements of your space and we can go from there. Our experts are here to help you design your dreams.